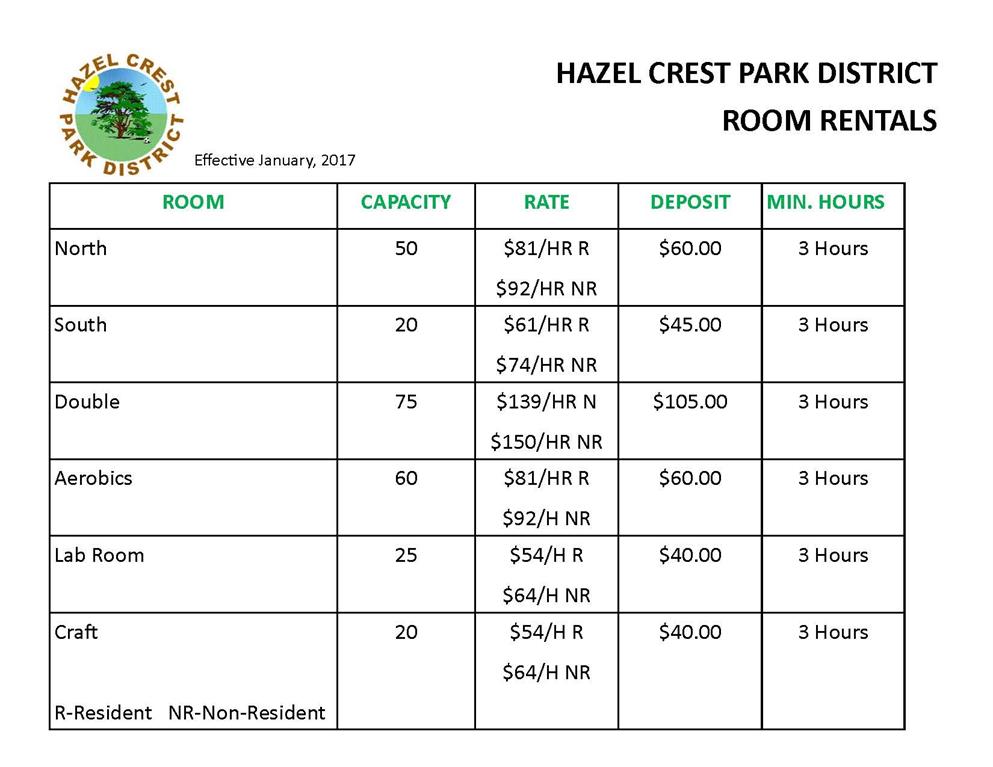 Looking for a place to have your next party, business meeting, workshop or gathering? The Hazel Crest Park District has the perfect place for you! Our facilities offer day, evening and weekend rental hours. Our facility can accommodate groups of 20 to 75 people. Fees range from $54-$150 per hour. A deposit is required to hold the day/date. To reserve the room for your event, a contract must be completed in person together with providing valid identification to confirm residency. For room availability and details, please contact the Hazel Crest Park District Customer Service at 708.335.1500.
ROOM DESCRIPTIONS
North Room—A large multi-purpose room with an adjoining kitchen which is ideal for family gatherings or large group meetings.
South Room—Small activity room with adjoining kitchen.
Double Room—North and South Rooms combined.
Craft Room—Small room containing sinks and countertops ideal for classes or meetings.
Lab Room—Small room containing sinks and counter tops perfect for classes or meetings
RECREATION CENTER
The Recreation Center contains a large gymnasium with a rubberized floor, vending area and restrooms. The gym can accommodate basketball and other recreational activities.
Fee: $55/Hour (3-Hour Minimum) Nonprofit Organization
Fee: $55/Hour (3-Hour Minimum) Resident
Fee: $90/Hour (3-Hour Minimum) Non-Resident
RENTAL CANCELLATION POLICY
All facility cancellations must be made no less than seven days prior to the reserved date. Picnic cancellations less than 30 days before scheduled date will result in loss of entire deposit. A $20.00 administrative fee will be charged if cancellation occurs at any time.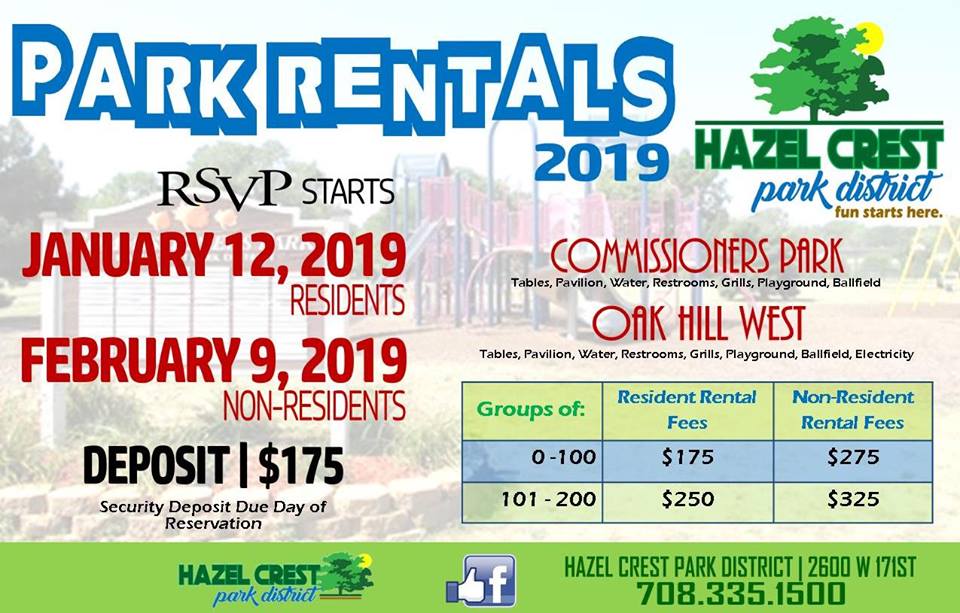 PARK RENTALS/FISHING
Hazel Crest Park District's is proud to own and maintain over 13 Parks totaling over 120 Acres. Parks are available for rental for that special picnic or reunion. Reservations for picnic rentals begin for residents in early January and for non-residents in February. Reservations for parks are provided on a first come, first served basis. Please contact Customer Service for park rental availability.
PARKS/LOCATIONS
Commissioners Park (22 Acres)—2600 W. 171st
Oak Hill Park West (5 Acres)—171st and California Avenue
Crestview/Lake Owens Park (13 Acres)—17001 South Holmes Avenue
Oak Valley Park (23 Acres)—171st and Rockwell Avenue
James O. Setnes Complex—167th and I-294
Lions Park (2 Acres)—169th and Trapet Avenue
Tri-Hi Park (1.1 Acres)—171st and Anthony
Wolf Park (5.8 Acres)—Locust Drive and Laurel Lane
Cherry Creek Park (1.9 Acres)—175th and Stonebridge
Stone Hallow Park (5 Acres)—Stonebridge and Oakwood Drive
Chateaux Park (1 acre)—3500 Chambord Lane
Thurgood Marshall Park (12 Acres)—183rd and Fountainbleu
Dynasty Trails Park (33 Acres)—183rd and Village Drive
PICNIC PERMIT FEES/DEPOSIT
Group Size Resident Fee Non Resident Deposit Required
0-100 $175 $275 $175
101-200

$250 $325 $175
FISHING PERMIT FEES
Lake Owens & Dynasty Trails Fishing Permits
The fishing season begins April 1st and continues through October 31st.
Permit fees are listed below and are purchased at the Hazel Crest Park District Community Center during regular business hours.
Type Resident Non-Resident
Season $15 $25
Senior $10 $10
Daily $3 $5